Welcome to the Collaborative Summer Library Reading Program at the Spring Green Community Library! We hope that you'll join us this summer as we celebrate all of the things that we do to make our world a better place... which, of course, includes reading! Our Summer Library Program offers plenty of exciting events and opportunities; there is sure to be something fun and educational for all ages!
First and foremost, head on over to our Summer Reading Program page to get all the information you need about getting children and teens registered, so they can being to work their way towards winning some amazing prizes! After all, summer is the perfect time to catch up on all that reading you've been wanting to do!
Special Thanks to our Community Partners in Spring Green
First off, I want to take a moment to thank the businesses and organizations in the community that support the library. Our Summer Library Program simply could not be as successful as it is without the partnerships we have cultivated in Spring Green. The donations, time, and effort these groups and organizations offer the library symbolizes what makes Spring Green such a special place: our community. So, a huge thank you to:
• Arcadia Books, for their gracious incentive donations for our Summer Reading Program,
• Subway, for the same,
• Culver's, for providing free custard and helping us kick off our Summer Library Program,
• The amazing people who at the schools in the River Valley, for promoting our programs encouraging kids and teens to visit the library,

And last but certainly not least, thank you to the Meadows Assisted Living & Memory Care in Spring Green. We have continued to develop a beautiful partnership with these outstanding individuals. In addition to bringing grandmas over to lead storytimes for us once a month throughout the year, they are splitting the funding for three Summer Library Program performers: Zoozort, Nickey Fynn, and Mark Hayward. It's because of The Meadows' generosity that we are able to have such wonderful performances and incentives, so please say "thank you" when you see them at the weekly events!
Family Friendly Summer Library Programs - Wednesdays @ 2:00 PM!
We have some absolutely amazing Wednesday programs throughout the summer, with some remarkable performers, teachers, and artists! These events are free, with no registration required. Though some events are focused on ages 6 and up, many are for all ages, and you can just drop in! See below for details, and don't miss out!
‣ June 14th, 2:00-3:00 PM: "Build a Better World One Scoop at a Time!" 
• With Culver's & Scoopie! 
• For all ages!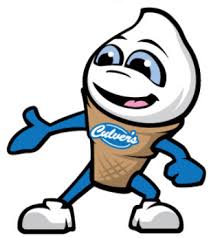 Kick off the summer library program with some free custard! You can also meet Scoopie, register for the
Summer Reading Program
, and learn about all the exciting summer events at the Spring Green Library! Fun for all ages!
-On this day you'll be able to pick up all you need to start reading and earning prize tickets!
‣ June 21st, 2:00-3:00 PM: Duke Otherwise
• Presenting: "Clever Wordplay - Tapdancing - Superb Music"
• Suggested for ages 0-9!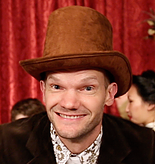 Join Duke Otherwise as he entertains us with his unbelievably creative dancing and music! This isn't your typical set of nursery rhymes - The Duke writes his own material, and children will be sure to love his interesting, educational, and imaginative musical storytelling! Bring your young ones to dance and sing along!
‣ June 28th, 2:00-3:00 PM: Zoozort Live Animal Program
• Presenting: "Build a Better World with Animal Knowledge!"
• Fun for all ages!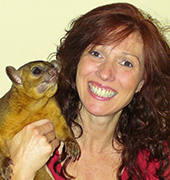 Come join licensed animal educator Noelle Tarrant of Zoozort as she brings different live animals into the community room for everyone to learn about! We're not talking dogs or cats here - you'll witness animals you've
never seen
before in person! Animals are an incredibly important part of our lives, and being educated will help us "build a better world" alongside them! This performance is generously co-sponsored by the
Meadows Assisted Living & Memory Care.

‣ July 5th, 2:00-3:00 PM: Caroline Hamblen of Taliesin Preservation Inc.
• Presenting: "Build a Better World the WRIGHT Way!"
• Participants must be 7-17, watching open to all ages!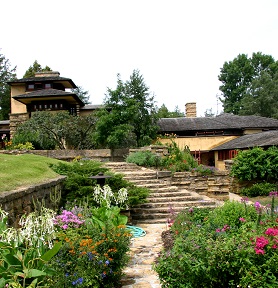 Creativity and design are key aspects in building... well... everything! But they are especially important things to keep in mind when it comes to architecture. We in the River Valley know this better than most because of our long history with Frank Lloyd Wright and Taliesin! Now you can learn more about Frank in this hands-on educational demonstration hosted by Taliesin Program Manager Caroline Hamblen! We will take inspiration from Frank Lloyd Wright's vision for a future city and together build a small neighborhood for today. 
‣ July 12th, 2:00-3:00 PM: Magician Nickey Fynn
• Presenting: "Comedy Magic Show!"
• Fun for all ages!
An important part of building a better world is having FUN too! Join Nickey Fynn as he dazzles and entertains with both comedy and magic. Nickey will use tricky manipulation techniques to will blow your mind! Be prepared to laugh until your belly hurts! This performance is generously co-sponsored by the
Meadows Assisted Living & Memory Care.

‣ July 19th, 2:00-3:00 PM: Yo-yoer Mark Hayward
• Presenting: "Super Awesome Yo-yo Day!"
• Fun for all ages!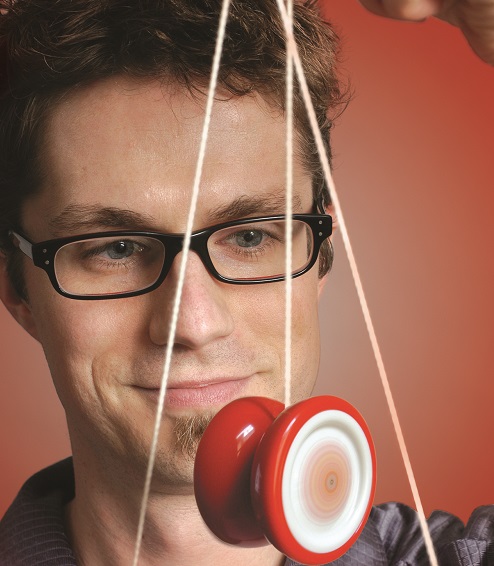 Mark Hayward is a seasoned performer, expert Yo-yoer, and all-around cool guy! He realizes the value of having fun while "building a better world", and we want to encourage you to do the same! Come watch Mark as he demonstrates some amazing yo-yo tricks that you can learn too! This performance is generously co-sponsored by the
Meadows Assisted Living & Memory Care.

‣ July 26th, 2:00-3:00 PM: "Dr. Shock" with Mad Science of Iowa+
• Presenting: "Construction and Demolition"
• Fun for all ages!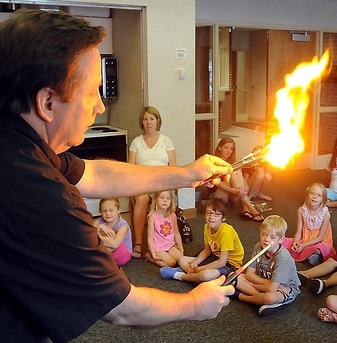 Learn about the physics and chemistry related to both construction and demolition! Help cultivate scientific literacy in our communities. Explore all sorts of fascinating and cool experiments that will help us understand how to "Build a Better World!"

‣ August 2nd, 2:00-3:00 PM: Prize Drawing Day!

August 2nd is the big day... the ticket drawing!  The day will finally arrive for all of our summer readers will see if they are lucky enough to win the prizes they have been vying for! Always remember: the more you read, the better your chances!

...And even more things to do at the library!

‣ Library Scavenger Hunt: "Tools for building a better world!"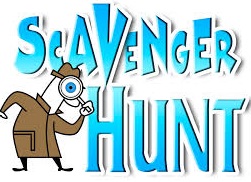 Each
Reading Program
registrant will receive a scavenger hunt game sheet! Young children may have a parent or sibling help. Look for theme-related items hidden throughout the library. Write down the title of the book found with each item. Leave the items you locate for the next seeker to find!
• Once completed, check in with a Librarian to receive your special prize!
‣ Summer Family Storytimes: "Constructing great stories!"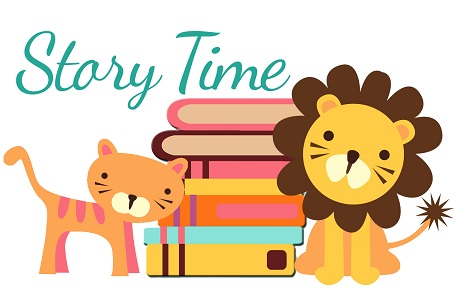 During our summer library program, we'll be hosting a weekly storytime and craft! These storytimes are open to all ages, but we'd suggest an age range of 3-9 based on the books' content and crafts' difficulty! Storytimes are held in the children's section of the library.
• Storytimes will be Fridays @ 10:30 AM, on the following dates: June 16th, June 23rd, June 30th, July 7th, July 14th, July 21st, July 28th, August 4th.
‣ Guess Jars: "The Estimation Station!"
We'll have three separate jars filled with different "Build a Better World"-themed items throughout the summer! The challenge for you is to try and guess
how many
 of each item is in the jar. Every day you check something out at the library this summer, you can grab a slip to write your name, age, telephone number, and most importantly - your guess! We will call the person closest to the actual amount, and they can come in and claim their prize!
• June 14th-28th : Guess how many nails?
• July 5th-19th : Guess how many legos?
• July 26th- August 9th : Guess how many tools?
‣ Teen Volunteers Needed!
• We are looking for teen volunteers (ages 12-17) for our 
Summer Library Program
! Help us set up, break down, and manage our weekly SLP events. Teens are needed from 1:30-3:30 PM each Wednesday June 14th to August 2nd.  
June 7th is a mandatory volunteer orientation day, from 3:30-5:30 PM. 
It's okay if you can't come to every program (besides June 7th), but we do need to know about which dates you can't make it to ahead of time. You can come and get and application at the library. Bring the applications into the library and chat with Chris to understand how to start getting involved. Volunteers are also required to get registered for our 
Summer Reading Program
, so be sure to do that as soon as you can!
With all the exciting things happening at the Spring Green Library and our Summer Library Program, there's no excuse not to get out, have fun, and as always: read, read, read!! How are you going to "Build a Better World" this summer?
Youth Services Librarian: Chris Baker
Phone: (608) 588-2276