Summer Reading Program
Week 2 of the summer reading program has started! All materials are available here. Enter in your goal, download (or pick up your form) and visit us for your weekly prize AND your grand prize tickets! The first GRAND PRIZE drawing happens on July 5th!
Community Wide Garage Sale - July 14 & 15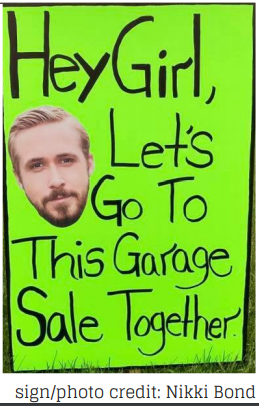 The Friends of the Spring Green Community Library will again be coordinating the community wide garage sale on Friday, July 14 and Saturday, July 15. 
This year, there is no charge to have your sale listed in the map!  Those who donate at least $10 to the Spring Green Community Library will have a special library supporter designation on the map. The Friends will also post the sale on online garage sale sites and will provide all participants with yard signs for the sale.
St Vincent de Paul of Reedsburg will be at the library on July 16 to pick up any leftovers or other donations.  Anyone who has a sale or who donates $10 or more to the library will be able to utilize this service.
For more information, contact Joy Kirkpatrick jakirkpatrick@charter.net or Stef Morrill stefaniemorrill@gmail.com  
Register by June 20 to be included on the map.
‣ Borrow e-books and digital audiobooks from the library!

Your library card gives you access to thousands of titles in Wisconsin's Digital Library. Using software from OverDrive, you can borrow up to 10 digital titles at one time including e-books, digital audiobooks, and streaming videos.
To start borrowing digital content from the library, contact Spring Green Community Library staff or visit OverDrive's website.
Flipster

You are able to access your favorite digital magazines using Flipster from EBSCO Information Services. Flipster is a next-generation digital magazine service that allows people to browse the latest issues of high quality digital versions of popular magazines, courtesy of the library.
Featured Artist
Our exhibit in May features bird photography by River Valley Birders.
The exhibit can be viewed during regular library hours when the community room is not in use for other purposes. A key is available at the circulation desk.