Library Director
The Spring Green Community Library Board seeks applicants for this full-time management position at our public library.  The library director will organize and direct the administration of library services and 10 staff members.
Minimum grade 3 certification required, library science degree preferred.  Public library experience preferred.  Starting salary $35,000 - $45,000/year.  Health, dental, and life insurance are available.
Full job description available at www.springgreenlibrary.org
APPLICATION INSTRUCTIONS:  Apply by May 15, 2015, with a resume and Village of Spring Green job application, available on line at http://www.vi.springgreen.wi.gov.  Send to:  Search Committee, Spring Green Community Library, 230 Monroe Street, Spring Green, WI  53588 or attach to an email and send to lthering@frontier.com
Adult Programs
"Don't Be a Victim of Identity Theft"
Saturday, April 25
10:00 AM-11:30 AM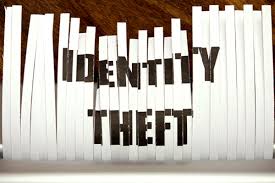 As data breaches like Target and Neiman Marcus continues to receive media coverage, consumers have more questions that ever on identity theft.
We will discuss how to protect yourself from identity theft as well as what to do if you are a victim of this crime. Speaker provided by the Wisconsin Bankers Association and co-sponsored by BMO Harris of Spring Green.
Children's Programs
Celebrating "Unlimited Possibilities"
Join us for this Drop-in, Hands-on,
Free Event
Celebrate National Library Week all month long. 
If you are interested in electronics, robotics, programming or just anything new, let curiousity carry you to the library!
Build and program LEGO Mindstorms EV3 robots.
All ages welcome with a focus on 8-16 year olds.
Color with Culver's
Celebrate National Library Week (April 12-18) all month long at your library where there are "Unlimited Possibilities."
For children ages 11 and under, come into the library starting Wednesday, April 1, to pick up your coloring sheet/instructions.
Return it to your library by April 30 and recieve a sweet treat from Culver's.
You will also be entered in a drawing to win a free Kid's Meal from Culver's and a book to keep from the library.
Celebrate Libraries!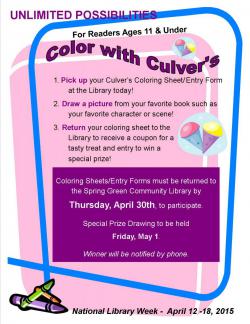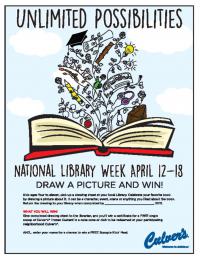 Celebrate National Library Week (April 12-18) all month long at your library where there are "Unlimited Possibilities."
Special guest readers from The Meadows Assisted Living and Memory Care during Preschool Storytime
Wednesdays, April 8, 15 and 22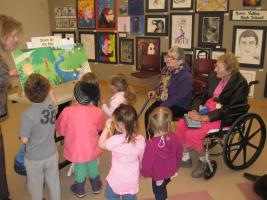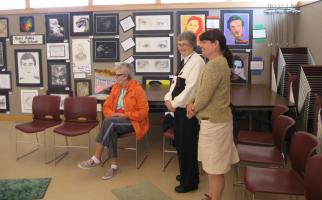 Miss Liz & Miss Myrna (April 8)            Miss Buela, Miss Johnie and Miss Brenda (April 15)
St. John's 5th grade class
in cooperation with their teacher, Mr. James Resch, and Spring Green Children's Librarian, Brenda Francis, performed a Reader's Theater for the residents at The Meadows Assisted Living and Memory Care on Monday, April 6. The play by Aaron Shepard was titled "The Legend of Lightning Larry." A western of humor and good will; citizens witness the town sherriff, Lightning Larry, fire bolts of lightning from his pistols which zing right through the villians' hearts persuading them to become good citizens.
Thank You to Brenda Gasch Mittelstadt, of The Meadows, for setting up this wonderful, sharing experience!
Preschool Storytimes: Wednesdays and Fridays at 10:15 AM.
Every week April 8 & 10 thru May 6 & 8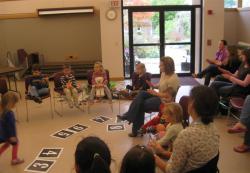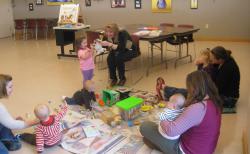 Just a reminder to families to turn in your recorded book titles by the end of May before we take our summer break for the Summer Library Program: "Every Hero Has a Story" coming in June. The 1000 Books B4K program will resume in September. Please feel free to contact Brenda Francis with any questions. Thank You!
Spring Craft
April 22 - Earth Day
Make a Rainstick
Students ages 7-12
Registration is required - Space is limited
Register online, call or come into the library starting April 8.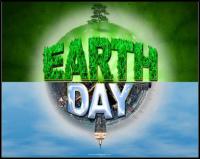 All materials for repurposing will be provided. Celebrate Earth Day with Brenda Francis & Heather Zumm!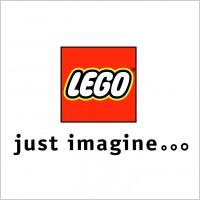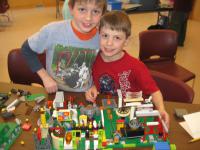 May 6
No registration required.
Students age 7-12
Wednesdays, 3:45-5:00pm
in the Community Room
Teen Programs
First Thursdays - 3:30-4:45 PM
Design Lab:
"Bots-Get Your Motor Runnin'!"
May 7
Building challenges for guys & girls!
Students will contruct a Bristlebot from a toothbrush, vibrating motor and battery! All materials will be provided.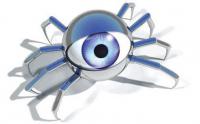 Contact Heather Zumm at hzumm@springgreenlibrary.org with any questions.
Third Thursdays - 3:30-4:30 PM
Anime Club
May 21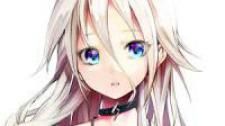 3:30 – 4:30 PM in the Community Room
Students ages 12 & up.
No registration required.
Reading – Viewing – Drawing – Gaming – Cosplay – Find out more…
Contact Heather Zumm at hzumm@springgreenlibrary.org with any questions.
Flipster
You are able to access your favorite digital magazines using Flipster from EBSCO Information Services beginning Jan. 1, 2015. Flipster is a next-generation digital magazine service that allows people to browse the latest issues of high quality digital versions of popular magazines, courtesy of the library.
Adult
Don't you just love getting a free copy of Entertainment at Home from the library? Stay up to the minute on new releases and old favorites.
Now for a short time, you can check out what's coming up in the February issue online. Please let us know if you enjoy it.
Featured Artist
Our exhibit in April features Mixed Media by River Valley High School Students. The exhibit can be viewed during regular library hours when the community room is not in use for other purposes. A key is available at the circulation desk.