Adult Programs
My Truth Be Told:
Sauk County's Palm of the Hand Memoirs
Spring Green Library, 230 E. Monroe St
Thursday, July 16 @ 6:30 PM
co-sponsored by the Baraboo Public Library and the UW-Baraboo/SaukCounty Library
All members of the community are invited to write and submit a story for publication in an upcoming book: My Truth Be Told will contain personal stories from people who live and work in Sauk County today.  A reflection of the people who make up our community, these stories will blend past and present in a mosaic of individual experiences. 
Come to the presentation
• Everyone is welcome
• No preparation necessary
• No materials required
• Bring a story to read if you wish
Guidelines for Submission
• Submit by July 31, 2015
• 625 words or less
• The author's own work
Electronically: email electronic versions of the memoirs to 
palmofthehandmemoirs@gmail.com in a text‐editable format
Paper copies: mail paper copies of the memoirs to the UW‐Baraboo/Sauk 
County Library, 1006 Connie Rd., Baraboo, WI 53913 or Baraboo Public Library, 
230 Fourth Avenue, Baraboo, WI 53913
Children's Programs
"Every Hero Has A Story" and "Unmasked"
It's never too late! Register online or come into the library today!
Your Summer Reading Packet is ready for you just check in with a librarian.
Read-to-Me, Independent Reader & TeenRead programs are offered.
Wednesday Programs @ 2:00 PM in the Community Room
July 8: "Winged Wonders" Raptor Education Group Inc. (REGI)
Experience HIgh Flying Heroes! In cooperation with the Meadows Assisted Living and Memory Care, join us for this special, one-of-a-kind experience with live raptors! Have you ever met an owl face to face? What about a hawk? A falcon? Meet some of Wisconsin's most common raptors. Discover what a raptor is, hear their stories and learn what you can do to ensure they remain a significant part of the ecosystem.  A Family Program - Fun for All Ages!
July 15: "FUNdamentals of Hula Hooping"
We've got Hula Hoops for everyone! Join Jeanna as she demonstrates the "FUNdamentals of Hula Hooping. This pastime has really grown over the years. We've got high energy hoopers who make heads spin with their grace and exciting demonstrations and performances.
"To Storytime and Beyond..." 
June 19, 26
July 3, 10, 17, 24, 31
This Family Storytime is open to all ages.  Stories-Music-Art-Games & Friends!
Fridays @ 10:15 a.m. in the Community Room
Dress comfortably and ready to play! We may be inside or outside depending on the weather.
July 1: "Journey to Pluto-New Horizon" with John Heasley - Thank You to John for a fascinating program and to all of our teen volunteers for their help!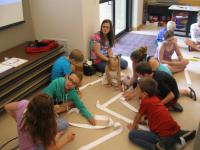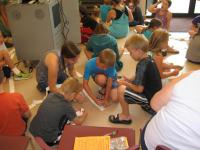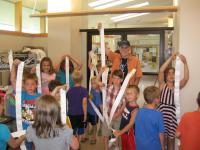 Flipster
You are able to access your favorite digital magazines using Flipster from EBSCO Information Services beginning Jan. 1, 2015. Flipster is a next-generation digital magazine service that allows people to browse the latest issues of high quality digital versions of popular magazines, courtesy of the library.
Adult
Don't you just love getting a free copy of Entertainment at Home from the library? Stay up to the minute on new releases and old favorites.
Now for a short time, you can check out what's coming up in the July issue online. Please let us know if you enjoy it.
Featured Artist
Our exhibit in July features Oil Paintings by Florence Bird. The exhibit can be viewed during regular library hours when the community room is not in use for other purposes. A key is available at the circulation desk.