LIBRARY UPDATES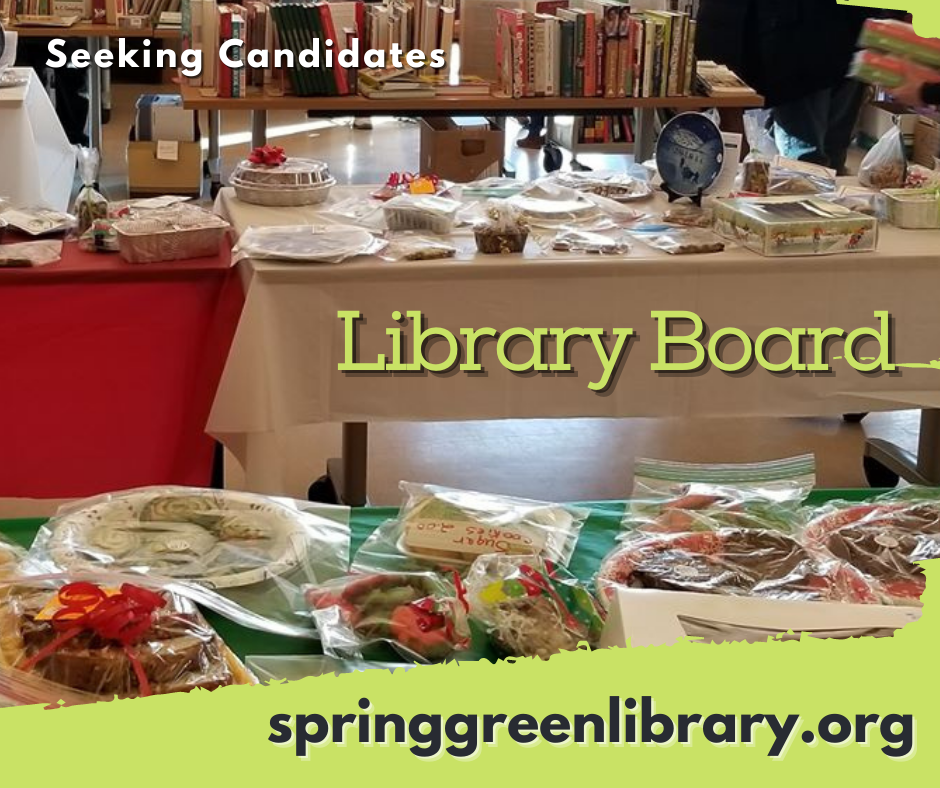 Library Board Seeks Candidates
The Spring Green Community Library is seeking applications from local residents for current and future membership on its Board of Directors.  Self-nominations are encouraged.  
The Library Board consists of seven members who are responsible for the organization's fiduciary oversight and policy-setting. Examples of particular skills in demand for new members include, but are not limited to, education, development, finance, or legal. 
Please send a letter/email to Library Director Lisa Thomas, lthomas@springgreenlibrary.org, with the following information: 
What is your profession and/or focus of interest?
What groups or organizations have you been associated with in the area?
What activities or functions have you participated in at the library?
What do you see as the library's role in the future?
What do you feel are the responsibilities of a Library Board member?
Please be sure to indicate the areas(s) in which your knowledge would be of benefit to the Board (finance, strategic planning, legal issues, government relations, human resources, building and grounds, technology, marketing, etc.). Applications for a current vacancy must be received by Friday, September 3. We look forward to hearing from you!
---
UPDATE 08/04/2021: Because Sauk County is currently experiencing substantial community spread of COVID-19, we are following CDC guidelines and returning to masking for all staff and patrons effective immediately. The library board will reevaluate this decision monthly based on Sauk County Public Health data.
The good news is that, because we are masking, we believe we can safely keep the library running "normally," with seating, the Friends book sale, restrooms, Archives, and the Community Room open to the public. We will continue to post updates here and on our Facebook page: facebook.com/sglibrary. Thank you for your continued support!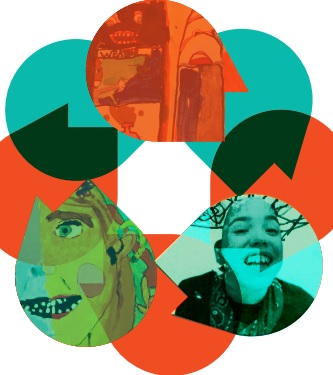 ---
UPDATE 7/18/2021: We are happy to announce that the library's Community Room is reopening in August, and we will celebrate this milestone with an inspiring traveling exhibition from ARTS for ALL Wisconsin, the statewide organization for arts and disability. ARTS for ALL was founded in 1985 with the mission to expand the capabilities, confidence, and quality of life for children and adults with disabilities by providing programs in dance, drama, creative writing, music, and visual art. The "Creative Power" exhibition includes 30 visual artworks and four framed poems, and will be open during library hours beginning August 3.
---
UPDATE 06/02/2021: The indoor book drop is now open! Because curbside pickup is not going anywhere, you now have THREE options when returning your materials. During library hours, you can return them in the outdoor tubs near the parking lot entrance, in the circulation desk book return, or in the Monroe Street book drop, which is open 24/7.
---
UPDATE 4/2/2021: Beginning Wednesday, April 7, the library will be open for express service. Our hours remain 11 AM to 7 PM Mondays through Thursdays, 11 AM to 5 PM Fridays, and 10 AM to 1 PM Saturdays. Everyone entering the building must practice social distancing and wear a cloth cover over their nose and mouth. Express service includes quick browsing (15 minutes or less) and picking up holds at the circulation desk. Computers and the copier remain available for use by appointment, with drop-ins welcome as space allows. The Community Room, restrooms, drinking fountains, circulation desk book return, and public seating remain closed, with no in-library reading for now. Curbside service remains available. Thank you for your continued support as we expand hours and services! 
---
UPDATE 3/15/2021: Great news! Library returns may once again be made in the 24-hour book drop located on the exterior of the building facing Monroe Street, OR (during library hours) in the tubs located in the curbside pickup area.
Please remember that there will continue to be a slight delay in the items coming off of your account while they are in quarantine (usually two days), but that all items checked out at the Spring Green Community Library are fine-free.
We are also excited to announce that beginning Monday, March 22, the library will expand hours to:
Mondays through Thursdays:  11 AM to 7 PM
Fridays:  11 AM to 5 PM 
Saturdays: 10 AM to 1 PM
Beginning Wednesday, April 7, we will adopt a limited-service model, which is browsing by appointment, with drop-in visits welcome as space allows.