LIBRARY UPDATES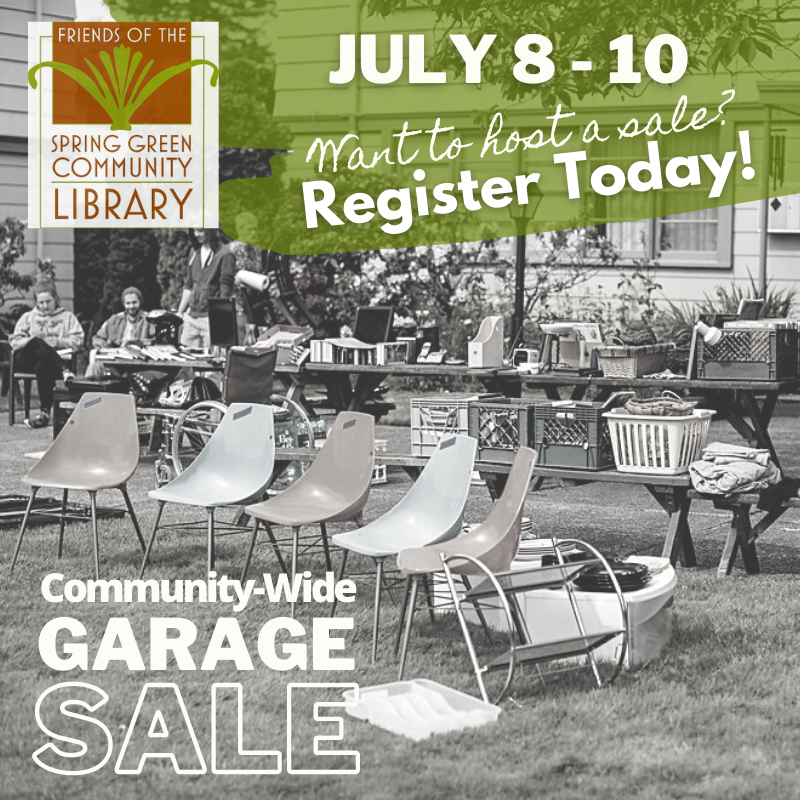 The FRIENDS OF THE LIBRARY COMMUNITY-WIDE GARAGE SALE will be held July 8-10. Click here for the registration form. The event is organized by the Friends of the Spring Green Library as a library fundraiser. Registration for the sale is FREE, though donations are encouraged ($10 minimum donation suggested). All registrants will receive a numbered yard sign, inclusion in the sale map, and online and print advertising for the entire event!
Those who choose to donate will receive special recognition for their support of the library on the sale map and yard signs. 
Registration deadline is Monday, June 21. Click here for the registration form, or pick one up at the library today!
UPDATE 4/2/2021: Beginning Wednesday, April 7, the library will be open for express service. Our hours remain 11 AM to 7 PM Mondays through Thursdays, 11 AM to 5 PM Fridays, and 10 AM to 1 PM Saturdays. Everyone entering the building must practice social distancing and wear a cloth cover over their nose and mouth. Express service includes quick browsing (15 minutes or less) and picking up holds at the circulation desk. Computers and the copier remain available for use by appointment, with drop-ins welcome as space allows. The Community Room, restrooms, drinking fountains, circulation desk book return, and public seating remain closed, with no in-library reading for now. Curbside service remains available. Thank you for your continued support as we expand hours and services! 
UPDATE 06/02/2021: The indoor book drop is now open! Because curbside pickup is not going anywhere, you now have THREE options when returning your materials. During library hours, you can return them in the outdoor tubs near the parking lot entrance, in the circulation desk book return, or in the Monroe Street book drop, which is open 24/7.
UPDATE 3/15/2021: Great news! Library returns may once again be made in the 24-hour book drop located on the exterior of the building facing Monroe Street, OR (during library hours) in the tubs located in the curbside pickup area.
Please remember that there will continue to be a slight delay in the items coming off of your account while they are in quarantine (usually two days), but that all items checked out at the Spring Green Community Library are fine-free.
We are also excited to announce that beginning Monday, March 22, the library will expand hours to:
Mondays through Thursdays:  11 AM to 7 PM
Fridays:  11 AM to 5 PM 
Saturdays: 10 AM to 1 PM
Beginning Wednesday, April 7, we will adopt a limited-service model, which is browsing by appointment, with drop-in visits welcome as space allows.