LIBRARY UPDATES
Summer Library Program 2022

Sign up for Spring Green's Summer Library Program and join us all summer long for storytimes, activities and prizes! More information can be found here or on our calendar!


The Friends of the Spring Green Community Library will again be coordinating the community wide yard sale that will run Thursday, July 7 through Saturday, July 9. Registration forms will be available by May 15th online and at the library. As in previous years, there is no charge to have your sale listed in the map! Those who donate at least $10 to the Spring Green Community Library will have a special library supporter designation on the map. The Friends will also post the sale on online garage sale sites and will provide all participants with yard signs for the sale.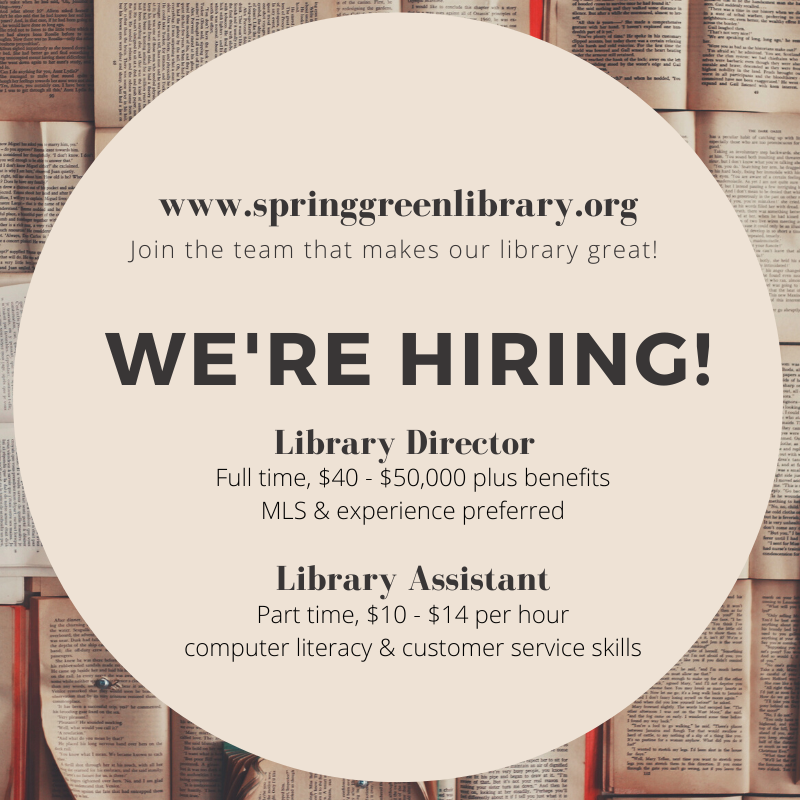 Art Exhibits for June: Kathy Steffen is exhibiting her assemblages in the Glass Case Gallery: Welcome to the Future-Robot World! Assemblage sculpture is a 3-D art form that takes "found" objects and transforms them into a cohesive piece.

Examples of blankets made locally for Project Linus, and coordinated by Pat Fargen, will be on exhibit in the Community Room Gallery. Project Linus is a nation-wide organization that provides quilts and blankets to children who have been traumatized, distressed, become ill, or just need a hug.

Both exhibits are available for viewing during regular library hours. The Community Room Gallery is available whenever the room is not in use. Please ask for the key to the room at the circulation desk.