Reference Assistance: Librarians are the original search engines! Contact the Library Director to ask a reference question.
Reader's Advisory: Not sure what to read next? Ask our staff for book recommendations. You can also use Novelist Plus.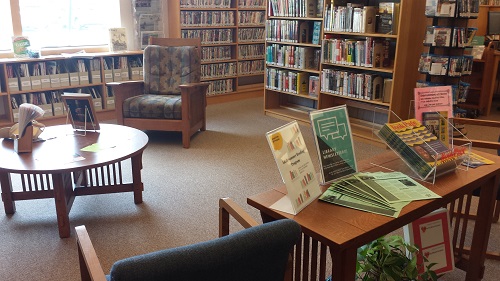 Outerlibrary loans: Contact Emily if you need assistance finding a book that is not available through LINKcat.
Volunteer opportunities: Volunteers are needed for a variety of tasks, including shelving on Friday afternoons, delivering books to homebound patrons, or assisting with library outreach efforts at the food pantry. Check our our Volunteer Page and/or contact the Library Director if you are interested in volunteering at the library.
OverDrive Assistance: We can help you borrow e-books and digital audiobooks! Contact the Library Director for assistance.
Local History: Visit our Local History page to learn more about what is available in our archives room.
Library Tours: Community groups, organizations, and any other interested patrons are encouraged to contact us to schedule a tour of the library. The 20-25 minute tour includes a physical tour of the library, introduction to LINKcat (the online library catalog), an overview of the electronic and physical resources available at the library and through the South Central Library System, and an optional introduction to borrowing e-books and other digital materials through OverDrive. Tours are available primarily from October through April during the library's regular operating hours.
Businesses, churches, or any other organizations looking for tours designed for adults can contact the Library Director to schedule a tour.
Schools, daycare centers, homeschooling groups or any other organizations bringing groups of children under the age of eighteen can contact the Youth Services Librarian to schedule a tour.