Infants, Toddlers, and Preschool Programs
The Spring Green Community Library is an excellent place for young children to read, play, and learn. Our programs focus mostly on crafts and literacy. We also have a fantastic selection of children's books and DVDs, so there's definitely something for your child to enjoy! Come cozy up in our warm, welcoming kids' area and read a book!
1000 Books Before Kindergarten
Image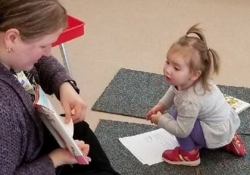 What is the 1000 Books Before Kindergarten program? The public libraries in the River Valley - Kraemer (Plain), Lone Rock, and Spring Green - are collaborating on the 1000 Books Before Kindergarten program! Children ages 0 thru kindergarten are eligible to participate and can earn prizes for every 100 book milestone!  By reading just three stories a day, you and your child could reach 1000 books in only one year!
Why join the program? Numerous studies show that reading to children builds vocabulary, language skills, and equips them with the skills they need for Kindergarten. Our goal is to provide a simple, innovative yet fun approach to establishing strong early literacy skills and encourage parent and child bonding through reading.
How do I get started? Sign up at your home library and visit any River Valley library to track your progress on your way to 1000 books. Fun rewards will be given out periodically and at the completion of the program.
Contact Emily with any questions at 608-588-2276, or come into the library!